These days, software has become so smart, that many things are deemed simple nowadays compared to how they were even a few years ago. Windows is better than ever with network discovery, mapping network drives, etc. If you've had inhibitions about upping your tech game because of previous experiences or the sheer overwhelming perceived complexity, there has never been a better time than now to take the next step.
Why should you have a NAS? You will get better performance by plugging a hard drive directly into your PC, and no networking or other knowledge is needed besides having to go to Windows Disk Management and bringing the drive online – so why bother?
There are a myriad of reasons why you should have a standalone NAS to handle your data storage. Firstly, it's a device that isn't being forced to follow the whims of the Windows update schedule, which can reboot in the middle of the night for unsure reasons, bring itself out of a user-commanded sleep cycle to perform an update, and could break who-knows-what. The list goes on.
A NAS is an appliance. It has its own firmware that is pushed out by the manufacturer – in this case Synology – every so often. The firmware is made for this box in its entirety; the NAS maker knows all of the hardware under-the-hood, and therefore benefits from this advantage. This is similar to how Apple is able to offer iOS to its users for as long as it's able, and I can say that the updates are damn reliable (yes, Android has gotten better about this) thanks to having that formula of their own software on top of their own hardware. By contrast, Windows has to consider an infinite number of hardware manufacturers, configurations, and age disparity all under the same hood, and it really shows, with how unreliable Windows updates are (even the latest April 2020 update had to be pulled after its release for stability reasons, despite being late already).
With a NAS, you get a lot more flexibility than just having another hard drive in your computer. A few examples are using your NAS for Time Machine backups for your macOS devices, having your own household's private cloud to store pictures, music, etc, which can be made available over the internet. You can easily and securely access data remotely, and increase your storage capacity. You can have secure data backup and encryption, redundancy, as well as resiliency and reliability – being able to sustain a hard drive failure without it impacting your work or losing data. With more capable NASes offered today, they can even handle your home surveillance, stream videos in your home as an HTPC, and even outside your home if you wish. I could keep going, but I think we've set the table well enough as to why you should own a NAS.
Today we're looking at a pair of new NASes from Synology, the DS220j and the DS420j. Synology is no stranger to the storage game. The company was founded in 2000 and touts over 6 million installations across the globe. It's known for small office and home sized NASes, but is also becoming a force in the data center, offering enterprise level storage solutions.
Both of these NASes are really geared towards entry level, which means lower cost and increases the easiness to deploy and use. Both the DS220j and DS420j offer 64-bit 4-core 1.4GHz ARM-based processors, better than 112 MB/s reading and writing, no subscription fees, and fault tolerance against hard drive failure.
The DS220j is a two-bay NAS, offering up to 32TB of usable space if you don't take advantage of the included protection by using RAID 0, or 16TB usable with RAID 1 configured.
The DS420j is a similar device with the same 64-bit processor under the hood, but offering 4 bays instead of 2. This gives the end user many more options when choosing their redundancy, and up to 64TB of storage if you choose not to use any RAID protection. When choosing the 4-bay model, you're able to take advantage of Synology's SHR, rather than the 2-bay, where all you can choose is RAID 0 or 1.
DS220j
DS420j
Processor
Realtek RTD1296 (ARM64)
RAM
512MB
1GB
Hardware Encryption
Yes
Drive Bays
2
4
Compatible Drives
3.5″ HDD or 2.5″ HDD/SSD (w/ optional disk holder on DS220j)
Connectivity
RJ45 1GbE
Supported RAID
JBOD, RAID 0/1 or
Synology Hybrid RAID (1-disk fault tolerance)
JBOD, RAID 0/1/5/6/10 or
Synology Hybrid RAID (2-disk fault tolerance)
File Systems
Internal: ext4
External: ext4, ext3, FAT, NTFS, HFS+, exFAT
External Ports
2x USB 3.0
Weight
0.88kg
2.21kg
What is SHR? It's not the traditional RAID set that you may be familiar with, so it's best to think about it as the 'easy' button. If you're unsure as to what type of RAID you should choose when deploying, we'd recommend choosing SHR, as it gives you the most flexibility in that you can mix drive sizes, choose your level of redundancy (lose one drive, or two with no data loss), among many other benefits. For a more detailed explanation, I recommend checking out Synology's official overview.
Visual Tour
The DS220j is the smaller, white 2-bay model, and the DS420j is the black, 4-bay model.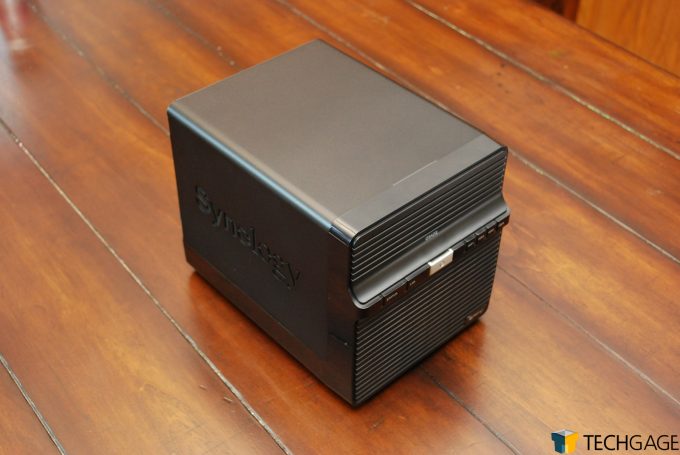 Network Attached Storage (NAS) isn't the sexiest kit on earth, let's face it. Synology has done a good job here with styling, keeping things simple and clean.
The DS220j is an all white enclosure, with a very minimal front, only having LED indicator lights, a power button, and not much else.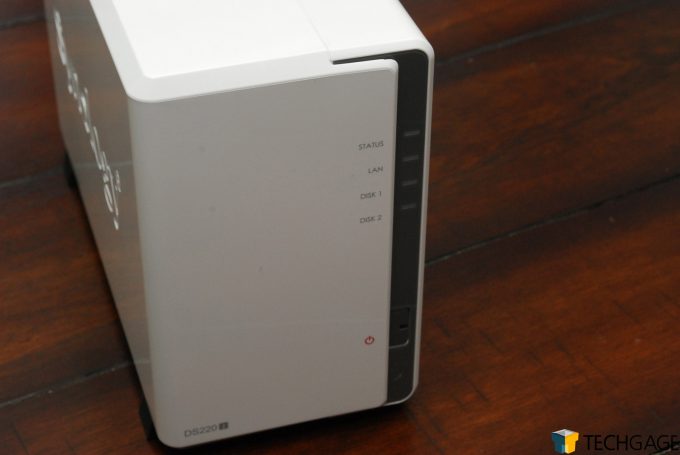 The back of the DS220j is just as simple with a single large fan, one RJ45 1GbE Ethernet port, two USB 3.0 ports, a power connector, a Kensington Security Slot, and a reset button.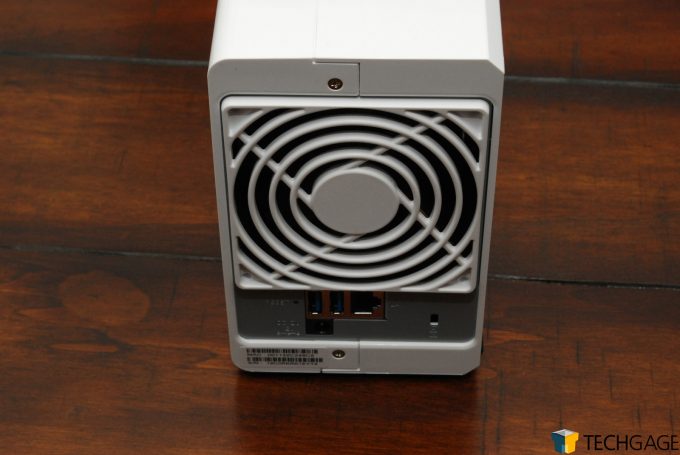 We take a look inside where we have our hard drives mounted. Cracking this NAS open is very easily done; there are just two small Phillips screws and we're in. Special thanks to our friends at Seagate for providing us with enough hard drives to make any data hoarder drool, 16TB Ironwolfs!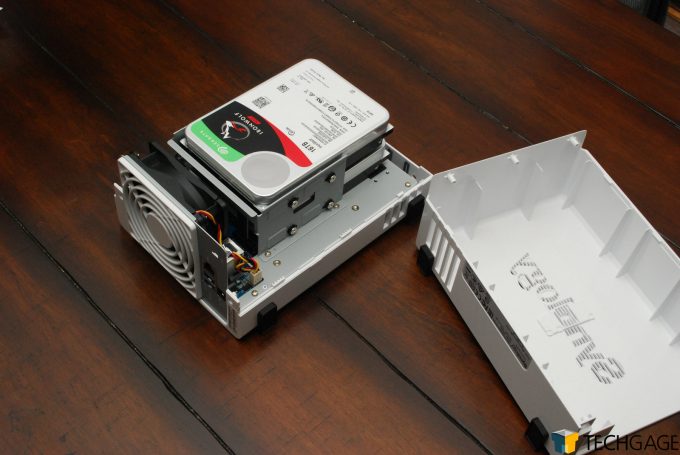 Installing these drives in the DS220j was as simple as you can imagine: if you can use a screw driver, you can install these drives quickly and easily.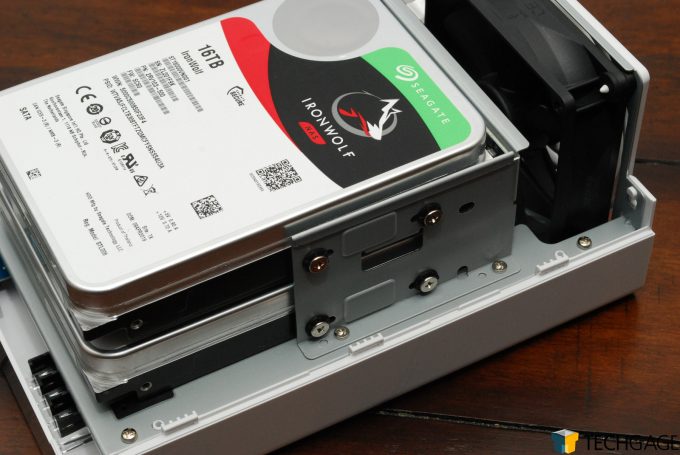 The DS420j is all-black, and has a little more character to the front than its little brother, but the same offering of LED indicator lights and a power button.
On the back side, we see the same as on its little brother, but with two fans, a single RJ45 1Gb Ethernet port, two USB 3.0 ports, a power connector, Kensington Security Slot, and a reset button.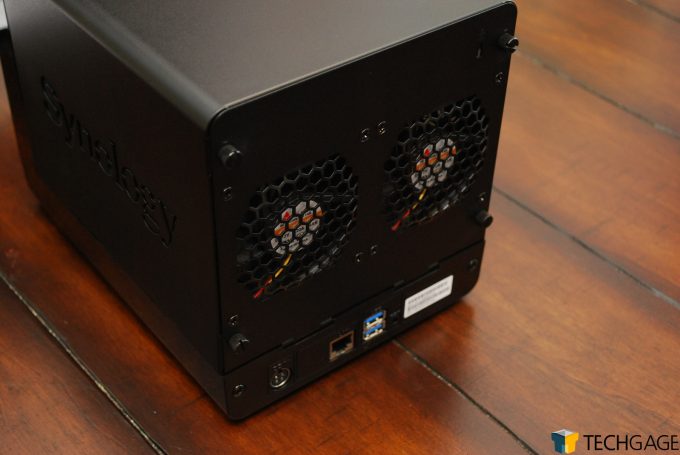 Installing Drives in the DS420j is even easier. With a completely tool-less design, you can load this guy up in just a couple of minutes.
Deployment and Usage
Deploying is done by finding a place in your home or office that is close to your router or switch, somewhere where you are able to run an Ethernet cable to the NAS. There are Powerline Ethernet adapters, and those do work, but most of the ones I've worked with don't get anywhere near their advertised speeds, and your storage performance may suffer a little because of it. Hardwired is best if you can make it happen.
Once you've got that done, it's as easy as powering on the device, giving it a little time to boot up, and then launching Synology's Web Assistant to find your new NAS. All of these instructions come with the NAS and are explained in good detail.
Once the Web Assistant finds your NAS on the network, just click on the Connect button and you're ready for configuration. On the two-bay model, you will choose RAID 0 or RAID 1. The easiest way to remember which is which: with RAID 0, you get no data redundancy but do get better performance and more storage. With RAID 1, you get redundancy where data is written twice across the drives, allowing you to sustain a complete hard drive failure and not lose data. With RAID 0, if you lose one drive, you've lost all of your data on all of the drives.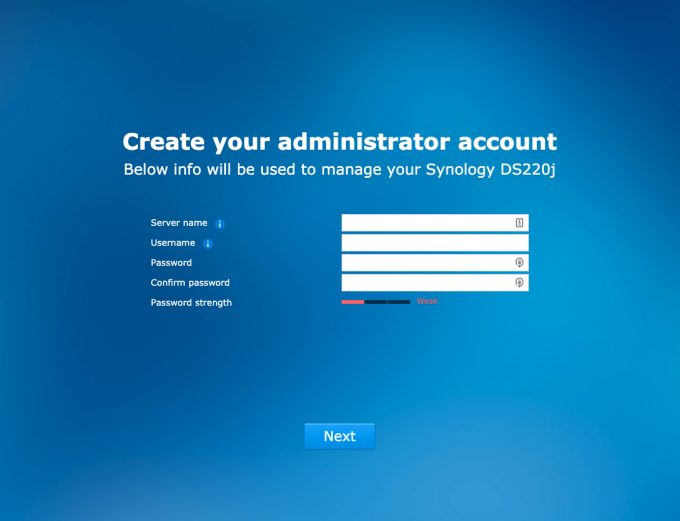 With my setup here, if I chose RAID 0, I would have 32TB of usable space, and because data is striped across both drives, performance will be great. But, performance is less of a concern in a NAS like this because the 1 GbE network will always be your speed bottleneck. For this deployment, I chose RAID 1, so I will have 16TB of usable space, and be able to lose one of the drives and not lose data.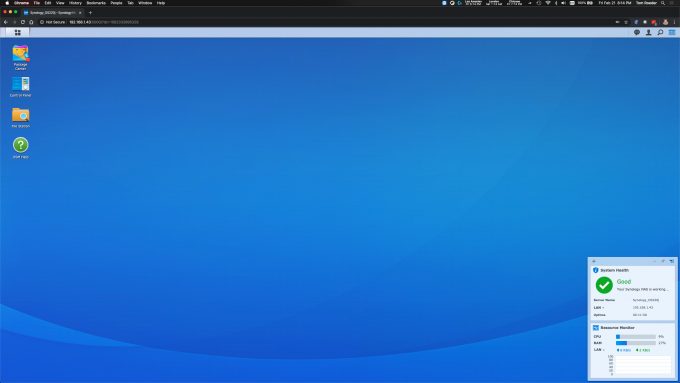 On the big brother, the DS420j, we get a few more choices. For understanding the different RAID choices, here is a great article you can reference. However, I am going to save you a lot of time and effort and just recommend going with Synology Hybrid RAID (SHR). Synology has this offered at no extra cost for licensing, and it's definitely the best choice for the vast majority of users out there since it makes things as easy as possible.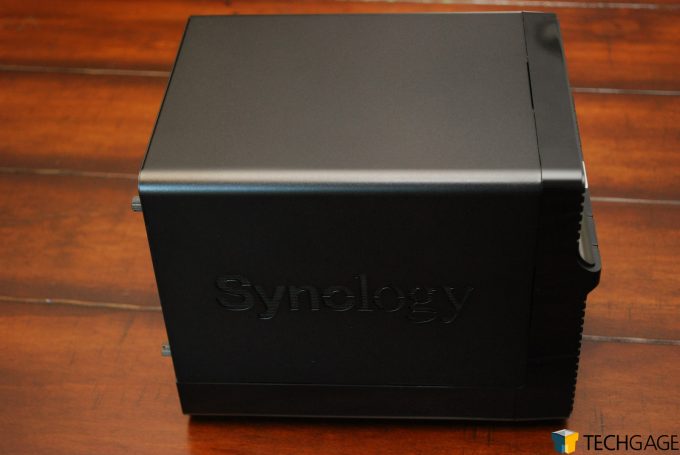 One great feature of the SHR in this DS420j, is you can always start with 2 drives and add more later with just a couple of clicks. For example, if you only have enough cash for the NAS and two drives right now, you can go ahead and get them now, and add more drives when you get the dough later. It's a fantastic example of the flexibility and benefits of using SHR.
From there, it's really up to you as to what you want to use it for, and there are many Knowledge Articles on Synology's website to help you configure what you need.
Performance is on par with what we would expect from a NAS with 1GbE networking, right at the limits for the network speed with no other operations going on. That is to say about 115MB/s on large file copy, with 3 HD security cameras running in the background. This NAS can do an impressive amount with such modest resources under the hood.
Speaking of cameras, Synology includes licenses for 2 cameras at not additional cost, and you can purchase additional licenses if you want to go beyond that. The Surveillance Station software installs quickly, and is super simple to configure. If you haven't bought any cameras yet and plan to, I would make sure they're at least ONVIF compatible, and if nothing else, Synology has a list of 3rd party cameras that are supported.
The Surveillance Station is a fully-featured security camera program, complete with motion detection zones (so you can choose to not allow that tree that moves in the wind to make your camera start recording) motion sensitivity, schedules, and so on. It's really comprehensive, and with a couple of low cost cameras, a very economical way to keep an eye on things.
There are a myriad of other applications you can choose to install to make your NAS even more functional. Not only the Surveillance Station, but also antivirus, torrent clients, backup clients, and many more. There are really too many to list, here is a link to show what all is on offer.
The Synology DS220j and DS420j are definitely downstream from other NAS offerings from Synology when it comes to raw horsepower, but as I found in my testing, there is a heck of a lot of optimization to be had, and the sheer level of functionality you can get from NASes at this price point is simply incredible. As of the time of writing, the 2-bay DS220j can be had for $169.99, while the 4-bay DS420j bumps the price tag to $299.99.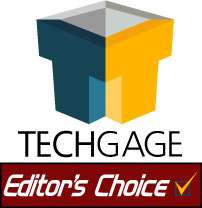 Synology DS220j & DS420j NASes
Pros
Great value.
Many choices for add-on applications.
Easy to deploy.
Great performance given the modest specs.
Cons
Support our efforts! With ad revenue at an all-time low for written websites, we're relying more than ever on reader support to help us continue putting so much effort into this type of content. You can support us by becoming a Patron, or by using our Amazon shopping affiliate links listed through our articles. Thanks for your support!