Synology gave away network attached storage (NAS) units to the Digit Forum members in a contest. These are the power users, people who could easily build their own low cost servers and install the free software necessary to make their own storage setups. Synology's DS220+ is dedicated hardware plugged into the router, giving local storage for all devices in a household. Nerevarine, sygeek, Vyom, Cool Buddy and Aestivial all found different reasons to use the device to stream multimedia content, store personal data, access their files over the internet, and augment or even replace their cloud storage. As sygeek points out, "If you have a niche use-case there's probably a way to make it work with a NAS – Create a surveillance setup, automatically download and stream the latest episode of your favorite show, create an encrypted folder for your important files, or run any other self-hosted applications. If you have a use case, there's likely a solution!".
What's in the box. Credit: Nerevarine 
Users also found that they could replace expensive cloud storage solutions with local storage. Vyom explains the NAS as "Your personal and private cloud! Your own server!" All these users are value conscious, and found that the software solutions provided by Synology were incredibly useful and convenient and in many cases superior to free and open source alternatives. Nerevarine writes, "The device retails for around Rs 32,000 in amazon.in offering quite a unique combination of software and hardware in the entry level home NAS solution." 
Specs and build
The Synology DS220+ is powered by an 2.0 Ghz Intel Celeron J4025 CPU, and comes with 2GB DDR4 RAM, along with an extra RAM slot that officially supports up to 4GB of RAM, but users have managed to make the device work with more memory. In terms of connectivity options, there are two LAN ports in the back, and a USB 3.0 interface each in the front and back, and a pair of RJ-45 LAN cables provided in the box. The power cable plugs into the back, and there is a power button on the front along with a dedicated copy button. This feature allows user to plug in a USB drive into the NAS, and use the button to copy all the contents with a single press. Vyom explains, "Now I just need to pop in a USB drive in the front USB 3.0 port of the NAS, and when it beeps, just need to press the physical "Copy" button on the front of the NAS. The NAS automatically copies the entire contents of the USB drive on NAS. It will do a long beep once the copy process is finished at which point I could remove the USB drive from NAS. I belive it's a very thoughtful feature of the NAS, which could prove extremely useful, in cases where you don't want a PC/laptop to copy the files from the USB. Seamless and intuitive process!"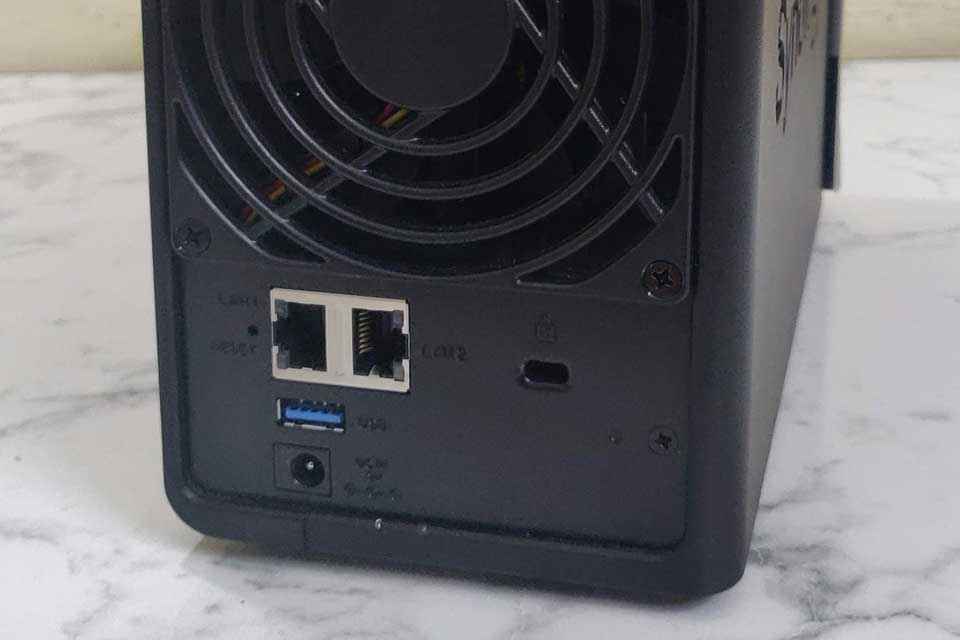 The back of the device. Credit: Sygeek
There are two drive bays on the NAS, for mounting hard drives. The NAS does not come with its own storage, which a few users found surprising, but they were provided with 1TB Seagate Barracuda drives for the review. The reviewers noted that the device was surprisingly light, with Vyom writing "Right out of the box, the NAS was so lightweight you could mistake it for an empty plastic box." 
Nerevarine noted that "the drive bays are capable of hot swap, meaning you can plug in hard drives or remove while it is powered on. The drives are attached by screwless plastic adapters. These are very sturdy and have rubber covering to prevent vibrations. Overall, I'm very impressed with the build quality. It occupies a very small footprint and makes very little noise when the fan is set to quiet mode. The plastic housing makes it lightweight, and portable." The fact that the device ran quiet was noted by Cool Buddy as well, "the device has a fan at the back to keep the drives cool. This is important as NAS devices usually run 24×7. The fan does not make any perceptible sound when run in quiet mode. Hard disk temperature hovered around 37 degrees most of the time, which is good for a 7200 rpm hard drive." Overall, all the users were satisfied with the build quality, with only sygeek pointing out that "my only complaint about the build itself is that the HDD bay cover is too flimsy and easily comes off."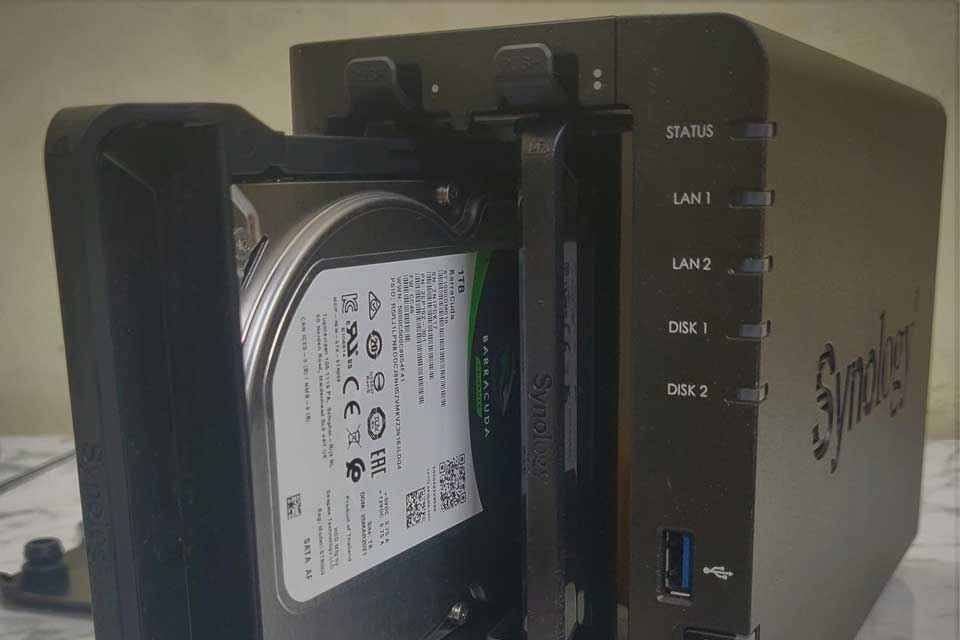 The hard drive bay covers. Credit: sygeek
Installation and setup
Most of the users were surprised or confused with the power cable, and each came up with a different solution to get the device running. Aestivial writes, "The whole thing is supposed to be powered by a monstrous 6A power socket (the bigger than usual power socket)." Nerevarine notes, "the package comes with a Power adapter, 2 gigabit capable ethernet RJ45 cables and the NAS device itself. The power cable is a hefty 6 A variant, which is not common in Indian households (meant only for high power devices like ACs or Induction etc.). However since the power adapter uses standard PC 3 PIN power plugs, you can buy a regular PSU power cable and use it." Vyom just used a converter, "since I am from India I needed to get a 3 pin converter since the power plus is humongous and wouldn't fit in your regular socket. This needed to be bought separately as it isn't shipped along with the NAS. Costed me Rs 100 from a local store." Cool Buddy writes, "Surprisingly the power cable is sized for a 16A power socket, which seems rather unnecessary. I ended up using another power cable as I didn't have any 16A sockets near my PC."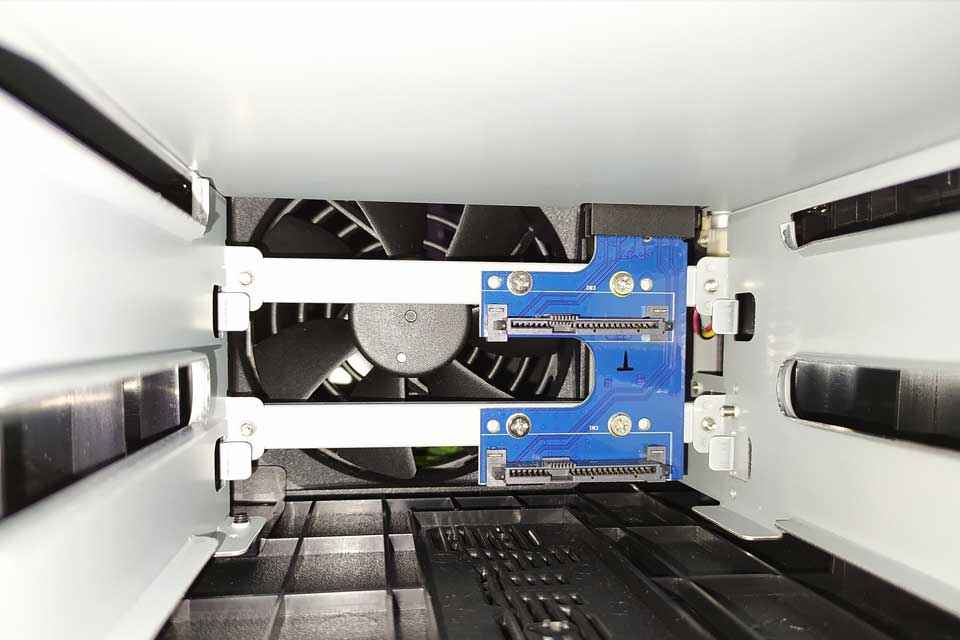 Inside the NAS. Credit: Vyom
One thing that all the reviews agreed on, was that the NAS was really easy to install and setup, even for new users. Aestivial notes, "as a beginner, as long as you stick by default options setting it up will be a breeze, just note that it will be time consuming in certain aspects." Vyom writes, "One thing which I totally admired was the ease of installing the NAS. After placing the NAS and connecting the power cable and a LAN, it was ready to set up." Nerevarine noted the ease of tool less installation, "the tool less HDD installation is excellent, but I have doubts about the longevity of the rubber parts." Cool Buddy also appreciated the tool less installation, "setting up the hardware is straightforward. The drive bay cover is magnetic and the drive bay itself locks in place without screws. It is designed for 3.5" drives, meaning you can install it without any tools," but was disappointed by the lack of WiFi connectivity, "there is no wi-fi option though, which is slightly disappointing. This means the NAS unit needs to be placed close to the router. This may pose a challenge if the router is wall mounted, as it is common to do." All the reviews agreed that it was easy to get the NAS up and running, with a simple plug and play operation. The next step was setting up the software, which is the bit that really impressed all the reviewers.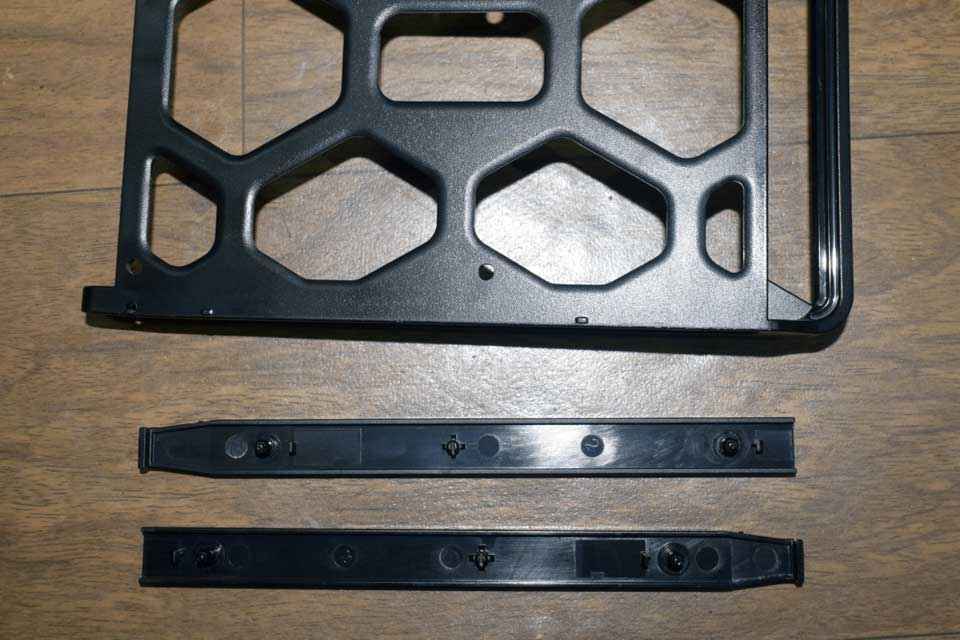 The tool less plastic bay adapters. Credit: Vyom. 
Apps
Diskstation Manager (DSM) is the custom Linux OS installed, built for the sole purpose of transferring files to and from the device. A number of software packages can be installed on top of the OS that offers added functionality. These included File, Note, Audio, Video, Photo "Stations", Synology Drive, Cloud Sync, and Moments, a photo management app with advanced AI functionalities. 
DSM
All the users really liked DSM, with sygeek focusing on the ease of use and UI "Synology calls this web interface, DSM (Diskstation Manager). It is a web interface that mimics the look of an operating system. I must say, they've nailed the user interface. I have never used or set up a NAS before and I found the entire process was dead simple. It has been designed perfectly to accommodate a beginner, while at the same time it doesn't abstract away features for a power user. It left a great first impression on me. Creating a beginner-friendly and intuitive interface is not an easy task, so kudos to Synology for this." The reviews also appreciated the capabilities of monitoring hard disk health and the computer itself. Nerevarine writes, "you also have access to custom notifications, which you can configure based on keywords present in said logs. This is very nifty and is a solid approach to dealing with disasters like HDDs going kaput!" 
Moments
The photo management app Moments found a bunch of fans, especially those who found that it worked very well with their existing cloud photo storage setups. Cool Buddy writes, "Moments is one app I really liked, both their web interface and Android app. The Android app has auto-backup feature to backup photos on your phone. So you never have to worry about losing your photos again. The photos are stored in folders by date taken. The Moments app displays them by default in timeline view, which is, photos sorted by date. It also does face recognition and shows photos containing specific people. You can add names to the identified faces. If your photos are geotagged, it will also display them by places. There is no maps view unfortunately. Apart from these, it allows you to create albums and add tags on your own as well." Nerevarine writes, "furthermore, Moments has an AI powered backend that continuously classifies objects, people and subjects in the photos and sorts them into auto-generated albums. This is very similar to Google Photos and an amazing addition to this product. The AI also suggests improvement to your pics and tries to suggest deleting duplicate images to save storage space. Nifty!" Aestival appreciated the granular control options, "this app is one of the primary reasons I was so enthusiastic about trying out the Synology NAS as a superior alternative to Google Photos, and I wasn't disappointed either. Specially having the liberty to choose backing up of photos with certain extent of control (for instance the option to trigger backup only while charging)." Moments was a straight up alternative to sygeek, "I've uploaded around 1200 photos till now, and the initial indexing took 25 minutes. It also comes with a mobile app, which I've installed on all my devices and now uses to sync my photos and share albums. Moving from Google Photos to Synology Moments has been a breeze and I haven't faced any issues so far. Like Google, it also has image detection for selfies, people, landscapes, etc." Cool Buddy also notes, "Moments is the photo organiser for DSM 6.2. DSM 7.0 has however ditched Moments in favour of Synology Photos. Do note that the Photo Station available in DSM 6.2 is not the same application as Synology Photos." 
Cloud Sync
Another app a lot of users found useful was Cloud Sync, an app that can be used to manage services by any of the major cloud storage providers, with scheduled backup and sync capabilities. Nerevarine used for backing up data to Google Drive, and noted the ease of use of doing it through a Linux machine compared to alternatives "for my use case, having the Cloud sync application to backup my data to my Google Drive was particularly important and Synology's offering is absolutely top notch. Just a reminder, Google does not provide any cloud sync tool to natively run on Linux, so we have to rely on open source alternatives like rclone, which is very difficult to configure for the first timer as it's all command line and cronjob based." Aestivial notes, "one of the most impressive aspect of DSM, is the Cloud Sync which I had setup as a bidirectional backup solution for my Google Drive, and it works like a charm!" Cool Buddy writes, "the ability to connect to cloud storage services was something I really liked. This was I can have my most important files easily available on my local network, while also being securely backed up on a cloud storage service. It supports Box, Dropbox, Google Drive, and Onedrive. Apart from this, FTP and WebDav can also be used to mount folders. The Cloud sync app also allows syncing individual folders with cloud storage services. This app has a much larger list of supported services, including Sharepoint, Backblaze, S3, etc." 
Performance
Now we come to the important part, the performance. Bear in mind that these users have the highest expectations from their gear and are uncompromising when it comes to transfer speeds. Most of the users were satisfied with the performance, with sygeek noting, "I was able to achieve speeds up to 90-110 MB/s on LAN and 60-80 MB/s over 5G wi-fi. My litmus test for speed is however consuming media from the mapped network drive. I am thoroughly satisfied with its performance. Watching movies with a native windows client, media playback is near-instant, which is a huge plus as someone who often skips around while watching movies." Cool Buddy was limited by hardware, "Since there are various benchmarks for Synology devices already available, I did not want to replicate it. Besides, my home router does not have Gigabit ports and hence transfer rates were limited to 100 mbps," while Aestival is trying to improve the performance by troubleshooting the device, and managed to increase the speeds from 1.14 MBPS to 7.96 MBPS, by connecting router to the NAS with two lan cables. Aestival writes, "even still, it is quite straying a bit far from my "expected" transfer rates, so I will assume am missing out something there. The time at hand to completely remark the device appeared indeed short to me (hope it also serves as an excuse for uploading this review so late) :p thus couldn't tinker much regarding the speeds. "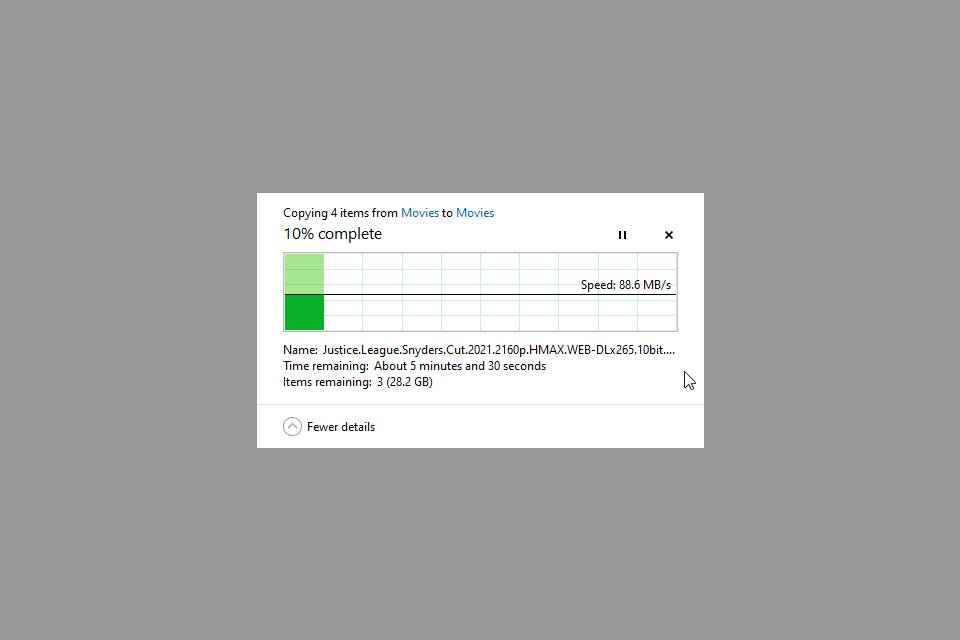 Data transfer test by sygeek. 
Conclusion
Overall, most of the users were very satisfied with the device, and noted the quality of the bundled software. Nerevarine writes, "It's a very powerful device and Synology's software support is top notch. Even though it is definitely possible to replicate this in a custom made NAS, with OpenMediaVault or FreeNAS, having a prebuilt offering with quality made materials and QA tested software applications is definitely a selling point. Although I feel the pricing is a little high, you pay for not only the hardware but the bug free software as well." In his review, Vyom notes, "While a desktop PC or a spare laptop can do most of the things which a NAS can do, a dedicated NAS makes so much sense and is so much better for anyone to set up a home server with limited knowledge. Synology seems to have made the entire process smooth and user friendly." According to Cool Buddy, "for the hardware and features it provides, I would consider it slightly overpriced. However, when you consider the overall app ecosystem and the experience, the pricing does not seem too high." For sygeek, it is all about being in control of your files and the freedom from cloud services that privaty conscious users get, "the DS220+ NAS is a beast of a device and handles every task I've thrown at it so far. The hardware is powerful and the DSM interface developed by Synology complements it perfectly. The package center contains apps for the majority of the use-cases and you won't have to look for a custom solution. The interface is user-friendly and I highly recommend it for people wanting to move out of Google's ecosystem." Aestival writes, "I found it all the more reasonable to go for a NAS if you have a more concentric use case (like for a family or office) instead of a single individual given the easy and accessible individual profiling for multiple users. At the end of the day, I really won't regret buying myself a Synology NAS DiskStation (or advising someone to purchase one either), given the features I'll be investing for." 
To check out the community review of the Synology DS120J NAS click here