The best NAS Devices in Australia
How did we pick this list?
Finder's team looked into more than one hundred NAS devices made by some of the world's leading manufacturers and chose these top picks based on product details and customer reviews. In each category, we extensively compared products to determine the best fit based on features and cost.
Pros
Four drive bays give you plenty of room for expansion
Synology's DSM user interface is unbeatable
Cons
Not so speedy
Gigabit Ethernet is super disappointing
Price (RRP): $831
Why we chose it
With over 40 products in its NAS line up, Synology knows a thing or two about what makes a NAS device worth your hard-earned money. With an unbeatable user interface, a great set of features and a price that's in line with the rest of the industry, the company's mid-tier, four drive bay-equipped DiskStation DS920+ is the best NAS device on the market.
The relatively simplistic enclosure supports up to four full-sized mechanical hard drives (3.5-inch). Those same slots can handle the smaller 2.5-inch form factor found on some hard drives and SATA SSDs. There are also an additional two M.2 slots for speedy NVMe SSDs, which can act as caches to speed up the slower, bulkier storage drives (though these are absolutely not essential).
Like the vast majority of the enclosures on this list, Synology's DS920+ typically doesn't come with drives pre-installed. Some retailers are willing to sell you bundles that include NAS drives, but you'll likely have to source these yourself. We've got more information about NAS drives over at our NAS buying guide.
While the NAS enclosure itself is fantastic overall, the stand-out point separating it from the competition is Synology's DiskStation Manager (DSM) interface. DSM includes heaps of features in a snappy package, allowing you to organise your photos, stream videos, collate your music and much more. Other brands do have comparable interfaces, they're just not as good as Synology's offering.
It's not all perfect, though. The Intel Celeron processor is decent, but won't knock your socks off, and the Ethernet ports on the device aren't the fastest.
Synology clearly impressed buyers with its DS920+, with the device boasting a 4.8 out of 5 star rating from more than 450 reviews on Amazon. What's even more impressive is the remarkably-low number of negative ratings, with 5 and 4-star reviews accounting for 96% of all reviews for the enclosure. Happy customers sang high praises of Synology's DSM interface, and others were pleased with the device's low noise. There were a few minor complaints about Synology's use of Gigabit Ethernet, though.
---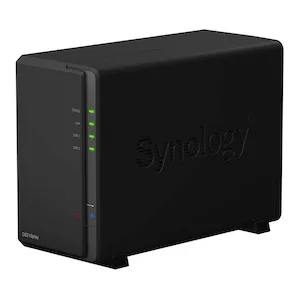 Pros
Supports 4K media streaming at up to 60 frames per second
Compact, lightweight and minimal design
Cons
No HDMI or DisplayPort
Lacklustre specs
Price (RRP): $349
Why we chose it
NAS devices aren't all that cheap, and neither are the drives specifically designed to go in them, but Synology's entry-level DS218play makes the technology more accessible. With plenty of support for media playback and a smaller, more compact design, the DS218play is the best budget NAS device on store shelves today.
Marketed as a "personal multimedia library" by Synology, you'd expect the DS218play to be really good at video streaming, as well as photo and music storage. Luckily, built-in hardware transcoding means you can enjoy 4K video up to 60 frames per second straight from the NAS, and the DiskStation Manager software allows for easy storage and organisation of all of your photos and tunes.
For some reason, Synology basically refuses to put HDMI ports on its NAS enclosures. It seems a little counterintuitive, given many use NAS devices for media consumption, but it's even less sensible on this unit which literally has "play" in its name. It's not some industry standard to omit the output, either. Synology's main competitors, QNAP and Asustor, don't shy away from putting HDMI ports on NAS drives, even budget ones.
The device can fit two full-sized drives into its relatively compact 870-gram body, though it'll be quite a bit heavier if you load both bays with traditional hard drives.
The specs on the DS218play aren't the snappiest. Synology kitted out the unit with a quad-core Realtek processor and just 1 gigabyte of DDR4 memory, so it'll be fine for most tasks, but might struggle under intense usage.
In the eyes of the consumer, Synology seems to have gotten budget NAS devices right. From more than 250 reviews on Google, the DS218play earned itself an impressive 4.6 out of 5 rating, with buyers happy with the device's speeds and ease of use. Some weren't quite as pleased with the enclosure's design, particularly the plastic housing.
---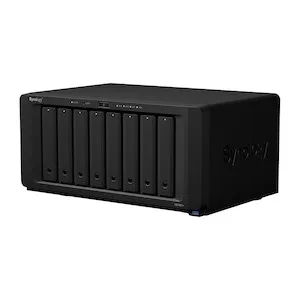 Pros
Oodles of room for expansion with 8 drive bays
Room for two super-speedy M.2 NVMe SSDs
Cons
Eye-wateringly expensive
Gigabit Ethernet at this price point is insulting
Price (RRP): $1,556.33
Why we chose it
For some, four drives just won't cut it. Synology's DS1821+ is hot off the assembly line, and with room to fit eight full-sized 3.5-inch hard drives, you probably won't have to worry about storage for a long time. While all that space comes at a steep price, the beefy NAS drive is the best high-capacity unit you can buy.
Targeting techies and small to medium-sized businesses, Synology loaded the DS1821+ with plenty of performance to make it fit for whatever gets thrown at it. The company went with a quad-core AMD Ryzen processor to power the enclosure, a sign of shifting tides in the CPU space. There are just 4 gigabytes of memory pre-installed, but if you find you need a bit more, you can load up to 32 gigabytes of DDR4 into the 6-kilogram device.
At its core, the DS1821+ is for those who need an absurdly large amount of storage space. There are a whopping eight drive bays, which allow for both 3.5-inch and 2.5-inch hard drives or SSDs. There's also space for dual M.2 SSDs that can act as a cache for your main drives.
You can theoretically have up to 18 drives connected to the DS1821+, but no one should actually try that. You'd have to be willing to fork out an extra $700+ (each) for two of Synology's DX517 expansion units and however much for all of those drives. If you genuinely need that much storage, a NAS might not be the best way to go.
While NAS pricing is super variable, you can expect to pay at least $1,500 for the DS1821+, and that's without forking out hundreds of dollars for high-capacity storage drives. The price becomes even harder to justify when you realise Synology wants you to pay extra for faster networking. The drive comes with four Gigabit Ethernet ports, which is rough when competitors such as Asustor put faster 2.5 Gigabit ports on devices half the price. The enclosure does support 10 Gigabit networking, but that'll cost extra.
The DS1821+ is relatively new, releasing in late 2020. So while you're getting the latest tech from one of the world's leading NAS device manufacturers, there's not much in the way of customer feedback and reviews just yet. Still, early adopters seem to be pretty happy with their investment, with an average review score on Google of 4.9 out of 5 from 9 reviews. All four reviews on Newegg give the device a 5 out of 5 rating, and B&H's average review score is 4.5 out of 5.
---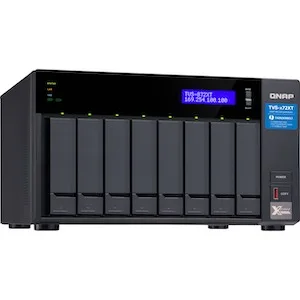 Pros
Speedy Intel Core i5 8400T processor
Loaded up with 16 gigabytes of DDR4 RAM
Cons
Quite heavy and bulky
More expensive than most TVs
Price (RRP): $3,828.66
Why we chose it
High-performance hardware is crucial to keep a NAS device running smoothly under any workload. Luckily, with an Intel Core i5 processor and 16 gigabytes of memory, QNAP's TVS-872XT is no slouch. When you also factor in the speedy ports for file transfer and eight drive bays, it's the best high-performance NAS device money can buy.
The TVS-872XT can be loaded up with eight full-sized 3.5-inch hard drives and is compatible with the smaller 2.5-inch form factor frequently found on SSDs and some laptop-based hard drives. There's also room for two M.2 SSDs for caching if you're looking to boost performance even further.
Even though it costs as much as some pre-owned cars, the high-performance TVS-872XT is an appealing choice for anyone wanting a NAS that won't blink an eye when put under the pump. The hexa-core Intel Core i5 8400T, alongside 16 gigabytes of DDR4 system memory, can handle anything from 4K video playback to powering your own VPN server. The beefy hardware also allows for rapid file transfer via the two Thunderbolt 3 ports on the back of the device (so long as you have a supported device, such as the MacBook Pro and XPS 13).
QNAP thoughtfully includes 10 Gigabit networking on the high-end enclosure, so data transfer speeds are blazing fast across your network, too. That is, so long as your network can keep up.
With all of that hardware and space, the TVS-872XT isn't the smallest, lightest or most attractive NAS on the market. Its big microwave-esque design means it's going to feel most at home in an office, rather than next to a TV. You definitely won't want to be moving the device around, though, since it weighs a whopping 7.06 kilograms when empty.
QNAP's pricey TVS-series devices received a decent 4.1 out of 5 star rating from almost 100 reviews on Amazon. Customers were happy with the enclosure's inclusion of two Thunderbolt 3 ports. Buyers were also chuffed with the included 10 Gigabit Ethernet ports, but weren't quite as pleased with the device's reliability.
---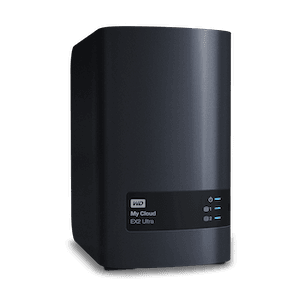 Pros
Super easy setup
No need to worry about installing drives
Cons
Outdated design
8 terabytes of space might not cut it for some
Price (RRP): $688.67
Why we chose it
Sometimes the most painless solution is the best one. WD's older-yet-user-friendly My Cloud EX2 Ultra comes with its drives pre-installed and has one of the most simple setup processes out of any NAS device, making it the best easy-to-use NAS enclosure on the market today.
Setting up the My Cloud EX2 Ultra is super easy. Since the drives are pre-installed, it's practically ready from the moment you take it out of the box and turn it on. You'll have to set up your accounts so you can access the drive from anywhere, but other than that, you'll be good to go right away.
WD's My Cloud interface is pretty simple, with almost everything you'd need to check or access available from the main dashboard. There's also a My Cloud app, so you can access all your files when you're on the go.
The My Cloud EX2 Ultra isn't the prettiest NAS drive on the market, although as you might have observed, not many of them are particularly stunning. Still, WD hasn't given much attention to its NAS devices in recent years. Many of its newer products feature a square, modern design, while this one features the company's older, rounded look.
If you're really keen on getting the My Cloud EX2 Ultra, but don't want to settle for just 8 terabytes of storage, you can pick up models with up to 28 terabytes pre-installed. If you'd prefer to pick your own drives, there's a diskless model too.
The My Cloud EX2 Ultra earned a 4.2 out of 5 rating from more than 700 reviews on Amazon, with customers lauding the device's online features, as well as its pain-free setup. Some people did experience issues with the device's reliability and with WD's support, though.
---
Best disaster-resistant NAS device: ioSafe 218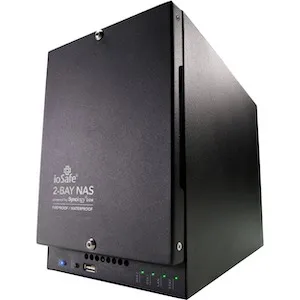 Pros
IP68 water resistance
Withstands fire as hot as 843°C
Cons
Absurdly expensive
Bulky and unattractive
Price (RRP): $931.18
Why we chose it
If you're living in a disaster-prone region, it might make sense to keep your data safe in a protected enclosure. ioSafe has just that, with its 218 NAS device capable of shielding your data from destruction in floodwater or a ferocious fire. While its price is pretty steep, it's the best NAS device for those wanting to protect their files from the elements.
The main selling point of the 218 NAS is its disaster-resistant design. The enclosure's IP68 water resistance means any precious data will be safe from fresh or saltwater for up to 72 hours, so long as it's not stuck more than 10 feet deep. The device can also withstand intense fires up to a temperature of 1550°F (for us Aussies, that's around 843°C) for 30 minutes. While it'd be best if no one ever had to use these protective features, it's good peace of mind for those who worry about this kind of thing.
You can fit two 3.5-inch drives into the (relatively) small enclosure, and it'll only support up to a total of 24 terabytes of storage space. That number might fluctuate depending on the RAID configuration used, though.
With a quad-core Realtek processor and 2 gigabytes of DDR4 memory under the hood, the 218 NAS isn't particularly powerful. Continuing the trend of unimpressive components is the single Gigabit Ethernet port on the device. It's following in the footsteps of Synology, which often only includes Gigabit Ethernet too. ioSafe has another thing in common with Synology: it uses the company's DSM software, so you can do anything a typical NAS would on this beefy enclosure.
As a niche product, there aren't as many reviews for the ioSafe 218 on Amazon as there are for more mainstream enclosures, but every review gave the disaster-resistant NAS a 5 out of 5 rating. The same is true on Google, with the two ratings both being 5 out of 5. Buyers were happy with the device's setup and its use of DSM.
---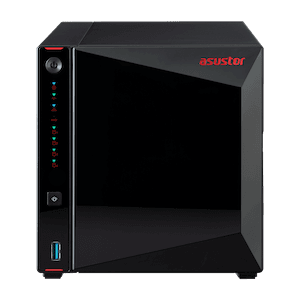 Pros
Includes an HDMI 2.0a port
Supports 4K video playback
Cons
Gaming aesthetic might not be for everyone
Users say it's noisy
Price (RRP): $722.99
Why we chose it
Built from the ground up for gamers and streamers, Asustor's Nimbustor 4 packs in a gamut of features designed to make storing and watching content on the NAS a pain-free process. While its noticeable red-accented gamer aesthetic might not be to everyone's taste, the AS5304T is the best NAS device out there for media consumption.
Asustor has packed decent hardware into the four drive bay enclosure, with a quad-core Intel Celeron J4105 processor and 4GB of DDR4 memory. Using all four bays, the Nimbustor 4 can store up to 76 terabytes of data on it at once, so you won't have to worry about whether you can store all of your photos and videos on it. Speaking of videos, you can easily watch content back from the NAS in 4K thanks to a built-in hardware decoder.
The Nimbustor 4 follows design cues from Asus' gaming division, Republic of Gamers, displayed through the case's red accents and plastered through all the device's marketing. While it's not too aggressive, it has a noticeably less basic design than most comparable NAS enclosures on the market. Some will love it for its different style, whereas others will hate it. It's all a matter of personal preference. Focusing on the gamer and streamer demographic, there are a bunch of features on the device that make saving gameplay from Twitch and YouTube a breeze.
Many customers mentioned that the Nimbustor 4 could get loud, which isn't fantastic for those looking to use the media-centric device as the centrepiece of a home theatre system. The extra noise could be distracting if you're trying to settle down and watch a movie or show, so it might be better suited for the office. Though, that would mean the built-in HDMI 2.0a port would likely go to waste.
Asustor's "gaming-inspired" NAS sports a 4.5 out of 5 rating from almost 200 customer reviews on Amazon. Buyers were happy with the device's stellar performance, media features and ease of use. Many were unimpressed with Asustor's support, experiencing hard to resolve issues due to poor customer service.
---
Methodology

13
Brands considered

110+
Products compared

7
Best products chosen
We checked out more than 110 products from 13 of the world's leading storage brands to bring you the best Network Attached Storage (NAS) devices in several categories.
We picked out these NAS devices after trawling through product pages and plenty of reviews made by customers (as well as those written by our experts).
The products on this list are chosen by our editorial team and are not selected based on commercial relationships.